Cooking TV Series
Alamelu's Public Television Cooking TV Series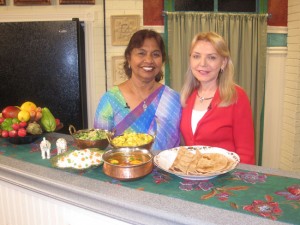 "The host of MPTV's "Healthful Indian Flavors with Alamelu has a lofty goal, She wants to educate the American public about healthy cooking enhanced with vegetables, spices, and legumes"– according to Fine Tuning, the Milwaukee Public Television Membership Magazine.
In her nationally well received unique TV series, Alamelu shares her passion for cooking healthful foods that are also aromatic and flavorful. The cooking series was first aired in Wisconsin, and subsequently has been aired in 2011 and 2012 throughout the U.S. For details, about her program visit www.mptv.org.
The program episodes feature recipes that emphasize locally available fresh vegetables, flavored rice dishes and meat dishes. Alamelu's easy-to-follow presentations can transform even vegetable haters to vegetable lovers. The program presents a broad variety of dishes that unite the flavors of Indian cuisine with American comfort food. East can meet West right at your dinner table.
Alamelu's second season of this TV series regularly features a guest, Margaret Pfeiffer, R.D. who explains the health and the nutritional benefits of the foods that Alamelu prepares in the shows.
TV Program Highlights:
Quick and easy to prepare dishes
Preparation of a range of flavorful foods
Orientation to spices and legumes
Light and healthy meals
A Sample of Viewers' Comments:
"Alamelu, enjoyed seeing you on MPTV. Loved the butternut squash masala.I could practically taste it through the TV. Your passion and enthusiasm made the show so much fun to watch-you are a natural! The Y will really benefit from your expertise. Thank you". Patti, B
"It so much fun to watch you, everyone here stops what they are doing, You are absolutely wonderful, and we love the show format and I'm so motivated to cook." Heather K
"A few weeks ago, I happen to catch an episode up in Santa Barbara, CA while on a vacation. I have to say I was so impressed not only with Alamelu's recipes but her delivery as well. I especially enjoyed how when educates and explains about certain ingredients in her meal plans. I enjoyed it very much and plan on purchasing her books. She is unique and gifted".    Joanne
" I grew up in India and have been in the US since past 14 yrs. I accidentally saw this show the other day and I loved it.  What struck me was that this show was very close to how I felt actual cooking was done in India. No pretense, no complication to confuse the hapless non-cooks like myself, no fancy jargon, no attempt to artificially make the day-today cooking into a marathon preparation, or hyping it up as an art that requires you to be born with some special instinct and smell sensitive nose! It was plain and simple, to the point, with a patient, encouraging and down to earth host and colorful honest Indian food to feast one's eyes on! I loved it! It is something that a completely novice cook like me can also attempt. Perfect! Thank you."  Alok L
"Namaste! I saw your show on TV today (In Colorado) and it was terrific! I look forward to seeing more of your shows! Happy cooking, yum,yum"  Kathy
"Love you Indian Goddess of Flavorful Delights, loved the show" Chris R.
"I love your show on PBS. Friend me? Do you ever cook for private parties? Are you anywhere near Texas by chance? Thank you" Gabby S
 "Alamelu, I did watch your cooking show and was impressed and motivated to prepare all the items you demonstrated…especially the spice rubbed salmon (which I love)" Lolita R
 "Alamelu, you were wonderful on this weekend's show.  It is such fun to see you on TV, you look beautiful and it is like having you in my home!" Ann V
"Alamelu, I have been watching your show and LOVING IT! Your explanations are so clear, and your presentation makes feel like I'm right there cooking with you and my friend watches each show.  So, there, you have a FAN CLUB! Congratulations on your success" Alice D
 "Namaste Alamelu. I hope that it is ok to write to you, will there be new episodes for "HIF with Alamelu" beyond the 13 episodes. I love your show and it has improved how we eat. We are eating fresh vegetables and plenty of lentils. I notice that I feel better too when cooking fresh vegetables with spices. I really like how you organize the spices and ingredients before you start. I am following your example and it really helps. Last night we made "Chicken curry in a hurry" and it was delish. Thank you".     Susan B
"Good afternoon Alamelu, I have created a stuffed pepper recipe in honor of watching and learning from your TV shows. It is wonderful fresh green and red peppers, stuffed and baked with a mixture of chick peas, rice with spices and tomato sauce. I call my new creation: Stuffed Peppers Alamelu."    Debbie L
"I live in Hellertown, PA which is Lehigh Valley near Allentown & Bethlehem. Yesterday I caught episode #208 of Healthful Indian Flavors with Alamelu at 10:30 am (I think on cable provider is ww.sectv.com. I was excited to find all of your episodes catalogued on http://www.mptv.org and last night I harvested a bunch of green beans and made your Green Beans with Ginger and Coconut for my wife and me. We both loved it. I am looking forward to trying all your recipes. Thanks".  Steve
"My husband and I watched your special on KCET Los Angeles when you made Chicken Kurma. Is the powdered coconut you use powdered coconut flakes or powdered coconut milk?

Love your smile and your food looks amazing. Going to try more recipes." Molly B
"Love your cooking show. Every recipe I've tried has been wonderful but I'm vegan so substitute tofu for chicken". Vandi R
"I have ordered your cookbook from Amazon.com.   My husband and I really like Indian food, especially curry and masala.  We have prepared some dishes from time to time.  I loved watching your show on TV with the easy preparation recipes. Hugs & Blessings From Our House to Yours".  Jo M,  Mount Pleasant, TX .
"Hi Alamelu, first found out about you on PBS Channel KCSM San Francisco CA. I enjoy Indian food, but have never tried cooking it on my own. You have inspired me to do that. I just recently visited my first Indian Market. I was quite overwhelmed, but I am determined to learn. Made the Cauliflower and Basmati rice dish, yummie!, didn't miss the meat at all. Anxious to try more. Thanks for being there, and you are a lovely hostess, and a great teacher!!" – A viewer from San Francisco, CA