Kids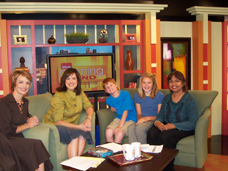 Why do kids hate vegetables?
Vegetables are usually served simply boiled or steamed can turn off kids. The resulting vegetable dishes can be tasteless, bland and boring foods.
What is the solution?
Load up on flavor! This will make kids excited and want to eat more vegetables.
Cooking needs to be an interactive experience.
Let the kids touch, feel and learn about vibrant-colored vegetables.
Instead of "hiding" the vegetables in the foods, as some writers suggest, include children in shopping and preparing foods. Help them develop an attraction for vegetables.
Cook and serve vegetables enhanced with spices and legumes.
Here are some sample comments from kids who attended Alamelu's Kids' Cooking Classes:
"I loved the rice with vegetables! Yummmm! I also learned how to make three quick recipes."
– Fay, Age 11

"I loved the class because it was easy and all the project recipes were my favorite."
– Kim, Age 10

"I like the rice with vegetables, she was a good teacher and I learned different foods, it was fun."
– Maria., Age 11

"Thank you for coming to our school and helping further enhance our learning about India. The foods that you made were delicious. I loved the way the spices gave the food flavor".
– Resya, Age 11

"Thank you for making that delicious food. I want to get your cookbook. Now, because of you I want to learn how to cook"
– Sadie, Age 11

"Thank you so much for coming to our school. I loved learning about new spices and how healthy they are!  I loved the vegetables with spices, please come again"
– Lisa, Age 11

"Your food that you made for us was amazing. I am totally getting your cookbook. I love the flavor".
– Megan, Age 11